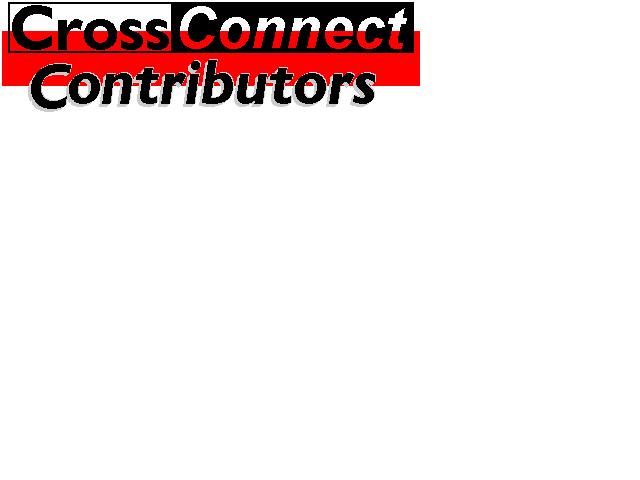 about CrossConnect's contributors

Stephen Berg
Partial list of books: 1995 Oblivian, University of Illinois Press, Champagne, Ill.
1992 New & Selected Poems, Copper Canyon Press, Port Townsend, Wash.
1991 Homage to the Afterlife, the Cummington Press, Omaha, Nebr.
1989 Crow with No Mouth: Ikkyu, Copper Canyon Press,
1986 In It, University of Illinois Press
1985 Sea Ice: Versions of Eskimo Songs, The Cummington Press

Richard Critchett
is a renegade bookseller currently in transit from Philadelphia to Nashville, TN. He travels with four guitars and two cats and is the victim of a higher education. (Phd)
Carol Margaret Davison's
poetry has appeared in Canada, Scotland and England in Critical Mass, Scrivener, Poetry Now 1994 Poets, West Coast Magazine and elsewhere, she has work forthcoming in Matrix. She is a lecturer in the English Department at Concordia University in Montreal, Canada, a doctoral candidate at Mcgill University in the same city and a freelance literary journalist. She is currently the Quebec Scene/Small Presses columnist for Montreal's English daily newspaper, The Montreal Gazette.
Lee Anne Deifer
has a Master's Degree in Publication and Design from Drexel University. Her photography has appeared in galleries in the Delaware Valley, Lehigh Valley and on the west coast. She is currently working in San Francisco.
L Detweiler
has a degree in software engineering, is working at a utility company software consulting company and has been engaged in cyberspace since 1989. He is the author of a variety of FAQs and a web site administrator.
Wallace Dupue
received his Master's degree in violin performance at Temple University in Philadelphia and performs with the Haddonfield Symphony Orchestra in New Jersey.
Hillary Joyce
works at Cornell University and is actively searching for a graduate writing program.
Ishan Kaul
is a freelance photographer with a keen interest in photojournalism. Born and raised in New Delhi, India, he came to Philadelphia in 1990 to study Electrical Engineering at Drexel University. He currently lives and works in Montreal, Quebec.
Scott Kramer
has just accepted a scholarship to the graduate writing program at the University of Northern Arizona.
Charles Lee
received his Bachelor's in Composition from Eastman School of Music. His primary teachers were Samuel Adler, Joseph Schwantner, Warren Benson and Christopher Rouse. He is currently working on his Master's degree at Temple University in cello performance.
Marek Lugowski's
prolific writing style is considered frustrating or entertaining depending on who you are. He lives in Chicago Illinois where he is continually working on Polish translations, most recently he has started A Small Garlic Press with fellow XConnect contributor, Kim Hodges. Their first book, already out, is Marek's_Utah Poems_. See their WEB site for info. Marek is behind the curve on getting stuff into print, but he managed to squeeze into sub-Urbanterrain's first two issues, as well as Fresh Dirt,Loose Gravel.
Michael Mcneilley
is the editor of Olympia Review and operates Zero City Press in Olympia Washington, his poetry has appeared in the Chicago Review, Plazm, New Delta Review, Poet, Lilliput Review and elsewhere, he has work forthcoming in Slipstream.
Elizabeth Mills
is majoring in mathematics at the University of California, Davis and plans (hopes, prays) to graduate spring of 1996. Her interests include collecting music, reading, daydreaming, films, writing, mathematics and physics, messing around with motorcycles and cars and sleeping. She is hoping to live in L.A. or San Francisco, land some sort of nice, well-paying job, buy herself her dream bike and find her dream woman.
Charles Munoz
is a retired professor living in Bucks County, Pennsylvania, his poetry has appeared in The Alabama Literary Review, The Antietam Review, Pivot and Beloit Poetry Journal among others. His first novel, Stowaway was published by Random House.
Judith Schaechter
is the recipient of two National Endowments for the Arts and a Pew Fellowship among others. Her artwork has appeared on the cover of New Yorker among others along with book covers and record albums. Her work has been exhibited in showings in New York, Los Angeles and most recently at Philadelphia's ICA gallery.
Meredyth Smith
is a 20 year-old theatre major at Brown University, with a special interest in performance and performance art. Her first solo performance art piece, called "Janey Ain't LIS-NIN" had its debut at Production Workshop April 15. She was named FSPA All-Florida Editorial Writer of the Year in 1992 and has won two Quill and Scroll awards.
Raina von Waldenburg
teaches at NYU where she earned her degree in theater. She is a performance poet working on her Masters in creative writing at Goddard College in Vermont. She has a leading role in Theater Double's production of Medea in Philadelphia.
Shawn Lynn Walker
is an English Major at the University of Pennsylvania. She writes poetry and fiction and is a member of the Philomathean Society. Sic itur ad astra. Her homepage address is http://www.sas.upenn.edu/~swalker.