Biting image?
Taco Bell's Chihuahua is one hot dog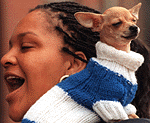 The latest Taco Bell commerical with the Chihuahua in black beret has upset some Hispanics. Here Pee Wee is riding high on owner Carnita Washington's shoulder.
Inq / Tom Gralish
Up on the balcony, in front of the thronging masses, he is unmistakable.
Moist brown eyes. Tiny black beret. Big ears, trembling whiskers, and that distinctive Mexican accent as he surveys the cheering crowd, opens his mouth and proclaims, via the magic of voice-overs and computer animation, "Viva Gorditas."
The "Taco Bell Chihuahua" -- alas, he has no name -- has won hearts, 30 seconds at a time, racing up fire escapes, playing Jeopardy!, readying himself for a "Taco revolution," and, in the most recent spot, apparently taking over a nation to hawk Taco Bell's latest treat, the stuffed flatbread "Gordita."
Lots of people love the little bug-eyed beast, who has been spokesdog for the taco chain since he uttered his first "Yo quiero Taco Bell" in December. Some Hispanics, though, are not amused.
One thing seems certain: The campaign is working. T-shirts featuring the dog's likeness are selling briskly on the Internet, and Taco Bell officials say, without getting specific, that doggie equals dollars. "The year has started off very well for Taco Bell," said corporate spokesman Peter Stack.
In a recent USA Today poll, the Chihuahua campaign was one of the three most popular efforts out of 140 measured by the newspaper since 1995, coming in just behind the Budweiser lizards. Of 566 adults responding, 47 percent said they liked the spots, and only 8 percent said they didn't.
Stack says the dog (played by two dogs and two doubles, not all of them male) has been popular with Taco Bell's core audience -- men 18 to 24 -- but also with "women, older adults, young kids, blacks, Hispanics. . . . The appeal of the dog is fantastic."
But not everyone is buying it. Some Hispanics say they're offended by a Mexican accent coming from the mouth of a dog.
"To me, it just doesn't seem right," said Maria Torres, a receptionist- secretary at Taller Puertorriqueno, a cultural education organization in North Philadelphia dedicated to preserving Puerto Rican and Latin American heritage. "If it were a little kid . . . or a baby, that would be different. But a dog just doesn't seem right."
And Cuban Americans are upset by what they see as the dog's resemblance to South American revolutionary Che Guevara in the "Viva Gorditas" spot.
"The dog is adorable," said Ninoska Perez, a radio talk-show host in Miami and a spokeswoman for the Cuban American National Foundation. The problem, she said, is that the dog appears to be a stand-in for Fidel Castro's beret- wearing comrade.
"To some people, Che is a romantic revolutionary, but Miami is a city where there are still a lot of victims. . . . I had a caller who said her brother was shot before the firing squads under Che," Perez said. "If the little dog had Hitler's moustache, or a KKK hat, it would be a different story."
Taco Bell officials denied any resemblance, unwitting or intentional, to the Cuban revolutionary.
But the campaign's creators, Chuck Bennett and Clay Williams, both creative directors at TBWA Chiat/Day, say there's definitely a little bit of Che in the "Viva Gorditas" spot.
"We wanted a heroic leader to make it this big, massive taco revolution," said Bennett. "A good shorthand for a revolutionary is Che, and the beret . . . it just seemed to make a lot of sense."
"We were very sensitive to the political ramifications," Bennett continued. "What works in our favor is . . . it's a Chihuahua. A silly Chihuahua, first and foremost. . . . It makes it funny. It takes the edge off. And in terms of the Hispanicness of this, we've been very careful to choose Hispanic actors (the Chihuahua's voice is provided by Mexican-American actor and stand-up comedian Carlos Alazariqui), and to always put the dog in heroic positions. The dog is smart. The dog is cool."
And the dog is no outlaw, unlike the Frito Bandito, a sombrero-wearing cartoon character who dashed across TV screens in the 1960s firing pistols and stealing chips. Following complaints from Hispanics who said the sneaky Bandito was a racist stereotype, and a call for a boycott from the Mexican American Anti-Defamation Committee, the Bandito campaign ended in 1970.
While some in the Hispanic community are taking a stand on the Chihuahua, others say they're amused by the commercials, or indifferent to them.
Lorenzo Cano, associate director of the University of Houston's Center for Mexican American studies, says that the big issue isn't a dog with an accent in a beret, it's what Taco Bell's role in the world is. "What else do they do? What is their role? Are they providing jobs for Latinos? Scholarships? What's the relationship between the company and the community? Those are the things one would look at, in assessing a business in the community."
While the controversy simmers, Taco Bell says the flak it has gotten doesn't amount to a hill of refried beans.
"It's safe to say that as long as the dog keeps delighting our customers, they'll keep seeing him do new things," said Stack.