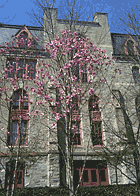 The Philadelphia Seminar on Christian Origins (PSCO) is a colloquium in ancient Judaism, early Christianity, and cognate fields. Its active membership includes teachers and research scholars in the study of early Judaism and early Christianity from Pennsylvania, New Jersey, and beyond. (For more information, see "Who We Are.")
The topic for the fifty-third year of PSCO is "Beyond 'Greco-Roman Context': Persian & Other Perspectives on Judaism & Christianity." Jae Hee Han and James Shackelford will coordinate the year's sessions.
To the degree that scholars of Judaism and Christianity have explored their formative "contexts," it has been largely with reference to the "Greco-Roman world." Bringing specialists in Persian, Parthian, and other "eastern" empires into conversation, we hope to open a space for discussing the benefits and challenges of countering the longstanding privileging of "Greco-Roman context." For more, see our topic page.
The PSCO is organized under the auspices of the University of Pennsylvania's Department of Religious Studies and has been made possible by generous sponsorship from the Penn Humanities Forum and Penn's Center for Ancient Studies.