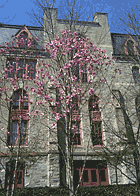 The PSCO is a colloquium in Christian origins and cognate fields. Its active membership includes teachers and research scholars in the study of early Judaism and early Christianity from a variety of institutions of higher learning in Pennsylvania, New Jersey, and beyond. (For more information, see "Who We Are.")
In honor of PSCO's fiftieth year, we will be taking the opportunity in 2012-2013 to look back at an eventful half-century of research in Christian origins and cognate fields, as well as looking ahead to what the next fifty years might (and should!) hold. We will begin with an oral history of the PSCO itself (Nov. 8th), followed by a special SBL session with different PSCO alums reflecting on what elements in the study of early Christianity have been most revolutionized in the past 50 years. This will be followed by panels exploring key themes or topics that have been particularly central to PSCO's ongoing discussions, as seen through the lens of different generations of scholars — from PSCO's founders and "old guard," to current Penn and Philly-area graduate students.
For other activities sponsored by the Penn Humanities Forum, visit the PHF website.