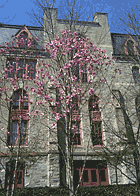 The PSCO is a colloquium in Christian origins and cognate fields. Its active membership includes teachers and research scholars in the study of early Judaism and early Christianity from a variety of institutions of higher learning in Pennsylvania, New Jersey, and beyond. (For more information, see "Who We Are.")
During our fifty-second year, the PSCO will explore "Formative Figures and Paths Not Taken: The Study of Ancient Judaism and Christianity between History and Historiography." In concert with the 2014-2015 Katz Center theme-year on "New Perspectives on the Origins, Context, and Diffusion of the Academic Study of Judaism," we will focus on key figures in the study of ancient Judaism and Christianity in the eighteenth, nineteenth, and early twentieth centuries, situating them both in terms of their own modern contexts and in terms of their contribution to scholarship on antiquity. For more, see our topic page.
The PSCO is organized under the auspices of the University of Pennsylvania's Department of Religious Studies and has been made possible by funding from the Penn Humanities Forum.