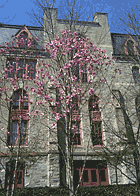 The PSCO is a colloquium in Christian origins and cognate fields. Its active membership includes teachers and research scholars in the study of early Judaism and early Christianity from a variety of institutions of higher learning in Pennsylvania, New Jersey, and beyond. (For more information, see "Who We Are.")
During our fifty-first year, the PSCO plans to focus on the Antiquities of the first-century CE Jewish historian Josephus. Disciplinary divisions have resulted in different conceptions of the Antiquities. Our aim for the 51st PSCO is to work towards a more integrative understanding of the Antiquities. For more, see our topic page.
The PSCO is organized under the auspices of the University of Pennsylvania's Department of Religious Studies and has been made possible by funding from the Penn Humanities Forum and the Center for Ancient Studies. For other activities sponsored by the Penn Humanities Forum, visit the PHF website.