Location of PSCO Meetings
Meetings During Pandemic
During the pandemic, PSCO is meeting online in Zoom. For Zoom links, register by emailing pscoseminar@sas.upenn.edu.
The University of Pennsylvania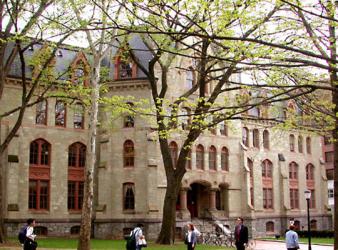 In ordinary times, PSCO meets on the campus of the University of Pennsylvania, in Philadelphia, PA. Meetings take place in the second floor lounge (room 254) of Cohen Hall.
Parking is available in a parking garage on the southeast corner of 34th Street and Ludlow Street (between Market Street and Chestnut Street). Another parking garage is located on the northeast corner of Walnut and 38th Streets. (See parking map.)
Street parking is also available. Walnut Street is a tow-away zone from 4:00-6:00 PM. Parking is free after 8:00 PM. If you arrive after 6:00, you're generally going to pay $1 to $2 to park on the street (parking kiosks take credit cards). There's two-hour parking until 8:00 PM on almost all of the side streets: 33rd Street, 38th Street, Walnut, Chestnut Street, 34th Street between Walnut and Chestnut, South Side of Spruce, and places further out. If you park on the street, be sure to read the parking signs carefully. Parking tickets arrive quickly and fines are steep.