"Annette Reeds' Fallen Angels:
A Conference in Honor of Annette Yoshiko Reed"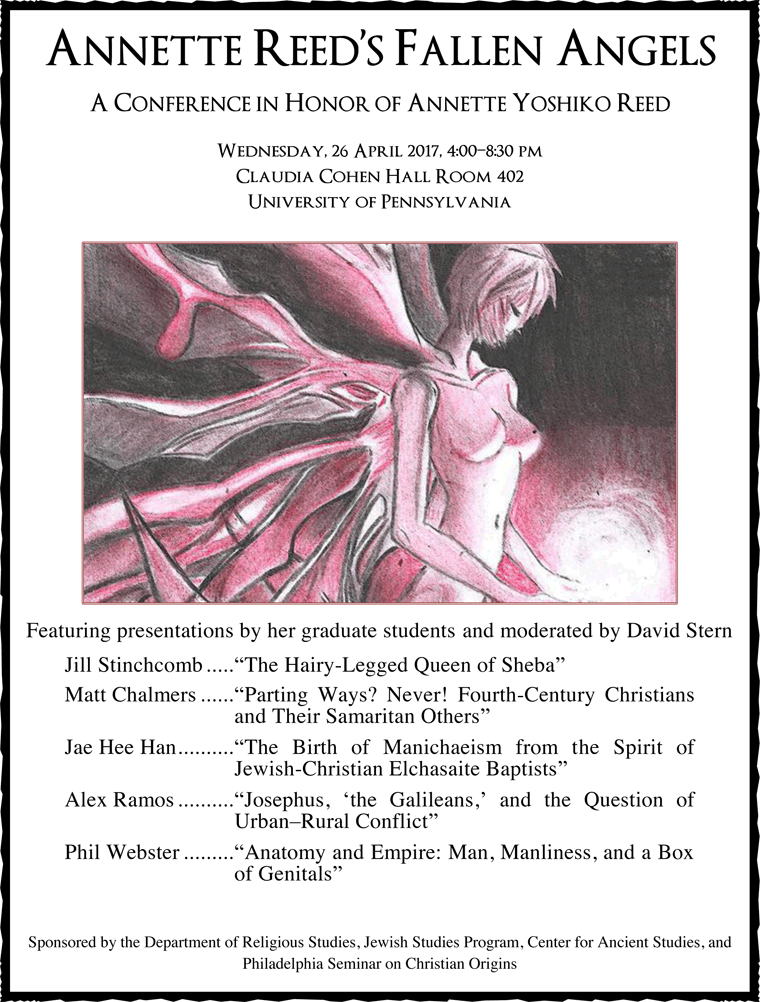 As many may already be aware, Professor Annette Yoshiko Reed will be leaving Penn's Religious Studies Department to join the faculty at New York University this coming Fall.
Her graduate students are organizing a small farewell conference on April 26 (4:00–8:30 PM, in room 402 of Cohen Hall on the Penn campus) in light of her immense service to the Penn community, which includes serving as a faculty member in the Religious Studies and Ancient History graduate groups, the Director of the Center for Ancient Studies, and a Faculty Director of Fisher Hassenfeld College House. This conference will feature presentations by Jillian Stinchcomb, Matthew Chalmers, Jae Hee Han, Alex Ramos, and Phillip Webster. It will be moderated by Prof. David Stern. The conference will be followed by a vegetarian reception.
If you would like to attend, please RSVP to jaehhan@sas.upenn.edu by April 21.
This event is co-sponsored by the Department of Religious Studies, the Jewish Studies Program, the Center for Ancient Studies, and the Philadelphia Seminar on Christian Origins.
Presentations
Jill Stinchcomb: "The Hairy Legged Queen of Sheba"
Matt Chalmers: "Parting Ways? Never! Fourth-Century Christians and their Samaritan Others"
Jae Han: "The Birth of Manichaeism from the Spirit of Jewish-Christian Elchasaite Baptists"
Alex Ramos: "Josephus, 'the Galileans' and the Question of Urban–Rural Conflict"
Phil Webster: "Anatomy and Empire: Man, Manliness, and a Box of Genitals"
PDF Flyer available