PSCO Presentation: Wednesday, 11 April, 2018
"Forgetting Ancient Jewish Sciences"
Annette Yoshiko Reed (NYU)

Presenter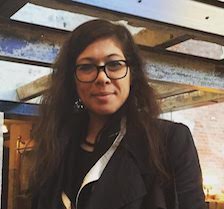 Annette Yoshiko Reed (Associate Professor, New York University) has particular interest in angels and demons, the afterlives of Second Temple traditions in late antiquity, and Jewish and Christian self-definition. Her forthcoming two-volume set, Jewish-Christianity and the History of Judaism (Mohr Siebeck, forthcoming 2018) collects her research on "Jewish-Christians," the early history of Jewish-Christian relations, and the history of scholarship.
Audio Recording
Here is an audio recording of this session. (If you prefer, you can download this recording.)
Suggested Readings:
A. Y. Reed, "Writing Jewish Astronomy in the Early Hellenistic Age: The Enochic Astronomical Book as Aramaic Wisdom and Archival Impulse," DSD 24 (2017): 1-37;
cf. A. Y. Reed, "Ancient Jewish Sciences and the Historiography of Judaism," Chapter 8 in J. Ben-Dov and S. L. Sanders, eds., Ancient Jewish Sciences and the History of Knowledge in the Second Temple Period (New York: ISAW & NYU Press, 2014), 197–256,
http://dlib.nyu.edu/awdl/isaw/ancient-jewish-sciences/
Umberto Eco, "An Ars Oblivionalis? Forget It!," PMLA 103 (1988): 254-61
Jacques Derrida, "Archive Fever: A Freudian Impression," Diacritics 25 (1995): 9-63.
Meeting and Dining
All are welcome! As usual, those interested are also welcome to join us for an informal dinner prior to the session. Those wishing to dine together before the seminar will meet at 6:00 p.m. in the Second-Floor Lounge of Cohen Hall and then walk next door to the food court in Houston Hall. Or, just meet us in the Houston Hall downstairs food-court between 6:00-6:45 p.m.
As usual, the PSCO seminar will begin at 7:00 p.m. and end at 9:00 p.m. We meet in the Second-Floor Lounge of Cohen Hall.