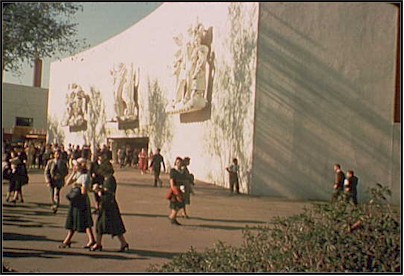 "[New York] World's Fair. Medicine and Public Health Building."
Gottscho-Schleisner, Inc., photographer. Created 1939 or 1940.
Library of Congress, Prints and Photographs Division, Gottscho-Schleisner Collection.
Exhibits and lectures on medicine drew crowds of visitors at the 1933 Chicago Century of Progress Exposition and at the 1939 World's Fairs held in New York and San Francisco. Just as visions of technological progress dominated the sections of these fairs designed by corporate organizations and civic agencies, the vision of American medicine promulgated at the fairs was of a technologically proficient field that promised to conquer disease and ill health.