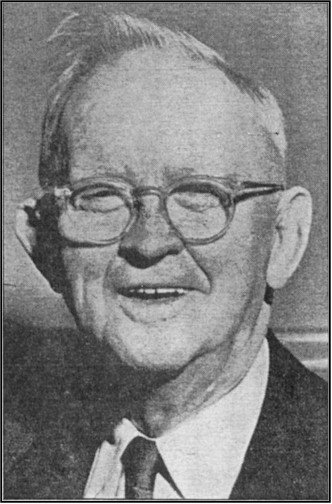 Doctor of Salt Rolling Fork," Time Magazine
December 14, 1953, p. 59
[Photo credited to "International"]
When Joseph I. Greenwell began practice in his home county, he had to be a horse & buggy doctor. It was 1900; no horseless carriage had yet been seen around New Haven, Ky., nestled in the valley of a river picturesquely named Salt Rolling Fork, and if it had, it could not have penetrated the surrounding hills. Many of Dr. Greenwell's first patients lived in log cabins like the one in which Abraham Lincoln was born, 15 miles from New Haven. To reach them, over rugged trails, Dr. Greenwell often had to leave the buggy and go on horseback. Sometimes he had to walk. He has also answered calls by rowboat and switch engine. Even when roads had been so improved that Dr. Greenwell could make calls by car, many of his patients had to be treated in their out-of-the-way homes because there was no hospital near by. Not until 1951 did Dr. Greenwell succeed in getting a hospital at Bardstown., which now serves the district. Somehow, the busy doctor of Salt Rolling Fork found time to go to Mass each morning, to keep his knowledge up to date by attending State Medical Association meetings, and to raise a family of twelve (eight still living). Last week, for his long and devoted service to his community, the A.M.A. voted Dr. Greenwell, now 80, "the family doctor of the year." Though there have been great changes around New Haven (pop. 563), Dr. Greenwell finds that many of his patients still live mainly on sowbelly, sorghum, hominy grits and turnip greens. It.must be pretty good fare, he says, because he rarely sees a case of diet deficiency (though he does report an occasional deficiency due to too little food and "too much bourbon"). And while he gives full credit to lifesaving antibiotics, Dr. Greenwell still carries sugar pills in his bag. "They're one of the best remedies," he says, "for people who don't really have anything wrong, but think they, ought to get something."