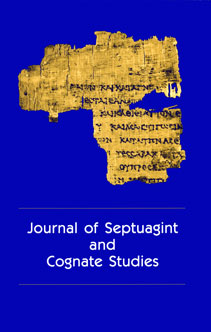 About the Journal
The International Organization for Septuagint and Cognate Studies produces an annual journal, the Journal of Septuagint and Cognate Studies) (JSCS). For issues 1 through 43, it was known as Bulletin of the International Organization of Septuagint and Cognate Studies (BIOSCS). With issue 44, the name changed to Journal of Septuagint and Cognate Studies. Under either name, the Journal is the periodical publication of the IOSCS. Eisenbrauns has published the Journal since Issue 34.
Each issue contains articles, book reviews, notices of recent dissertations, and society information. The JSCS is indexed in the ATLA Religion Database, Old Testament Abstracts, and New Testament Abstracts.
The Journal's Editor is Siegfried Kreuzer. An Editorial Board with native competence in French, German, and English assists the Editor with the peer-review process for articles submitted to the Journal, and with policy and procedures for the Journal. The current Board consists of Cécile Dogniez (Paris, France), Siegfried Kreuzer (Wuppertal, Germany), Alison Salvesen (Oxford, UK), and Glenn Wooden (Acadia Divinity College, Canada).
The Journal is sent to every current member. For subscription information, please see our membership page. The major contents of the Journal are listed elsewhere in this website. Digitized copies of the first 33 volumes of the Journal are also available.
To the readers and contributors of the Bulletin/Journal of Septuagint and Cognate Studies

The issues 44 (2011) and 45 (2012) of the "Bulletin", now "Journal of Septuagint and Cognate Studies" (JSCS), have unfortunately been delayed due to various problems. Since the end of September 2012 I have taken over the task as editor-in-chief of the Journal. We are working hard to catch up with the delay. While some peer-review-processes and the improvement of some articles by their authors are still under way, we have started the formatting and layout process. We expect that the proof reading will be carried out in November and December and that by the end of the year the issue will be at the publishers and can go to press in January. Work on the 2012 and 2013 issues will follow immediately. We will do our best for speedy publication. We ask for your understanding and we look forward to receiving your papers (and book reviews) for the Journal.

Siegfried Kreuzer and the editorial board

An die Leser und Beiträger des Bulletin/Journal of Septuagint and Cognate Studies

Das Erscheinen der Jahrgänge 44 (2011) und 45 (2012) von BIOSCS, jetzt "Journal of Septuagint and Cognate Studies" (JSCS) hat sich leider auf Grund verschiedener Probleme verspätet. Mit Ende September 2012 habe ich die Aufgabe des Hauptherausgebers des Journal übernommen. Wir arbeiten intensiv daran, die Verspätung aufzuholen. Während einige peer-review-Vorgänge und auch die Verbesserung einzelner Artikel durch deren Autorinnen und Autoren noch im Gange sind, haben wir jetzt mit der Formatierung und dem Layout begonnen. Wir hoffen, dass die Korrekturgänge im November und Dezember durchgeführt werden können und dass der Jahrgang mit Ende des Jahres zum Verlag gehen und im Januar gedruckt werden kann. Danach wird unverzüglich die Arbeit für die Jahrgänge 2012 und 2013 beginnen. Wir tun unser Bestes, um möglichst bald wieder auf den aktuellen Stand zu kommen. Wir bitten Sie um Verständnis und erwarten gerne Ihre Beiträge und Buchbesprechungen für das "Journal".

Siegfried Kreuzer und das Herausgeberkollegium

A l'attention des lecteurs et des auteurs du Bulletin/Journal of Septuagint and Cognate Studies

La parution des volumes 44 (2011) et 45 (2012) du BIOSCS, désormais appelé "Journal of Septuagint and Cogntate Studies" (JSCS), a malheureusement pris du retard pour diverses raisons. Fin septembre 2012, j'ai pris en charge la fonction de directeur de la Revue. Le comité de rédaction a beaucoup travaillé pour rattraper le retard. Certaines relectures auprès des experts, ainsi que la révision de quelques articles par les auteurs, sont encore en cours, mais le travail de mise en page et de maquette a commencé. Nous attendons la lecture d'épreuves pour novembre et décembre et, d'ici la fin de l'année, la revue sera chez l'éditeur pour une impression en janvier. Viendra juste après le travail pour les volumes de 2012 et 2013. Nous allons faire au mieux pour accélérer la parution. Dans l'attente de vos articles (et de vos comptes rendus) pour le JSCS, nous comptons sur votre compréhension.

Siegfried Kreuzer et le comité de rédaction
Submissions
Contributions are welcomed on topics related to the Septuagint and any cognate fields of study, written in English, French, or German, in the following categories:
Articles up to 15 pages in length (up to 45,000 characters+spaces or 7300 words, including notes).
Critical Notes that address one issue, up to 8 pages (24,000 characters+spaces or 3900 words, including notes).
Abstracts of dissertations leading to a Ph.D. (or an equivalent degree) granted by an accredited institution, one page in length (3000 characters+spaces, or 480 words).
Book reviews of 4800–6000 characters+spaces or 800–1000 words in length.
All submissions are to be made by electronic mail, in Microsoft Word® or Rich Text Format. It is preferred that Greek and Hebrew text be in Unicode, and Syriac in the SBL font SPEdessa.
Scholars who publish books on the Septuagint or cognate fields of study are encouraged to list the BIOSCS as a journal to which the publisher should send review copies. By notifying the editor as well, the book may be reviewed in the journal sooner.
Supervisors of doctoral students are encouraged to ask successful candidates to submit abstracts of relevant dissertations to the Journal.
Suggestions for books to be reviewed should be sent to the editor. After acceptance the books should be sent directly to the reviewer.
Editorial Address
Prof. Dr. Siegfried Kreuzer
Protestant University Wuppertal/Bethel
Missionsstraße 9
D-42285 Wuppertal, Germany
Email: skreuzer@uni-wuppertal.de
Publishing Address
Eisenbrauns
P. O. Box 275
Winona Lake, IN 46590-0275 U.S.A.

Journal Links